Helifix CemTies – Approved Installers
The Helifix CemTie is produced from 8mm or 10mm diameter Helibar and has been established as a standard repair technique for a number of different applications.
These applications include being installed as a fully grouted reinforcement tie, commonly used for bonding at wall junctions or intersections and for stabilising bulging solid, or rubble filled walls.
Helifix CemTies can be successfully installed up to a length of 1.5m and can also be installed vertically where required.
Helifix CemTies are very versatile and can be used in the following typical applications:
Repairing internal and external cracks near corners in cavity and solid walls
Masonry Arch pinning of separated brick rings, through brick faces or mortar
Masonry Arch pinning of debonded bricks or cracked brick rings
Stabilising delaminated rubble filled or solid walls
Reattaching brick or stone quoins
Connecting separated cavity or solid walls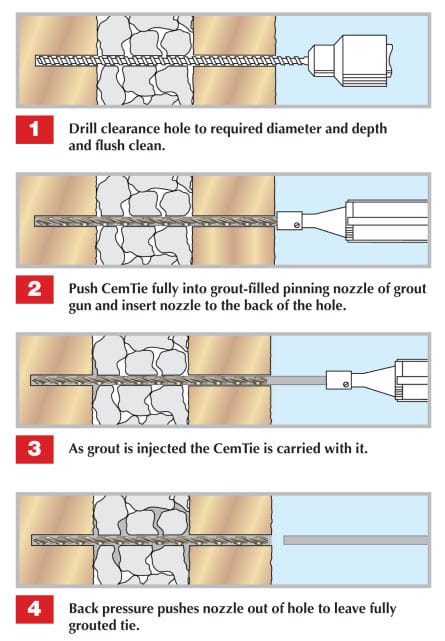 Protectahome carefully match repair strategies to the substrate to ensure maximum performance, flexibility and durability. The Helifix 
Helibeam
Masonry Repair and reinforcement system can be installed in a wide variety of construction types including Brick, Block, Stone and Concrete.
Protectahome are Helifix approved installers and we are able to offer a comprehensive repair or reinforcement package to our customers. Many of our installations benefit from the provision of a long term warranty.
Please see our
Case Studies
for more detail on the Helifix Structural Repair System in application or
Contact Us
on 0800 055 6966 more information.