According to Met Office statistics, October is officially the wettest month of the year with the highest average rainfall recorded. The average rainfall across the UK in October is in excess of 127mm, and significantly higher in some parts of the country such as Wales which records almost 170mm of rainfall in October.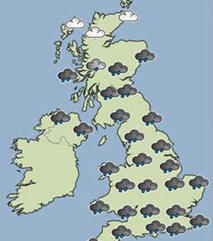 Waterproofing Systems Maintenance
As a result, this is a vital time of year to ensure that waterproofing systems are functioning correctly. Any systems that rely on drained protection (cavity drain sump and pump systems) need to be correctly maintained at all times, but especially at this time, to ensure that they can handle the increased workload brought on by the additional rainfall.
Sump, pumps and peripheral drainage channels need to be checked for limescale, blockages and defects as any of these can cause the system to lose integrity and fail, potentially causing significant damage to your property and possessions.
"Those that have not looked after their waterproofing system throughout the year can't expect their waterproofing system to look after them when they really need it to".
It is highly advisable to ensure that your waterproofing system has had a recent service heading into the winter months. Protectahome offer a full service contract for any drained waterproofing system that we install. Our experienced technicians will undertake a full maintenance check on the pumping system to make sure that the pump itself is free of limescale build up and capable of performing to its capacity. Also, using their raft of experience, our technicians will be able to test the drainage system to identify if any potential underlying problems or blockages exist within the basedrain.
Dry Rot
Additionally, this time of the year is very important for the owners of properties that have had a history of dry rot. Maintaining a high level of maintenance is vital as such properties are often more susceptible to future attacks. Sustained wet weather can overwhelm drainage systems, such as roof gutters, that are not property maintained, thus potentially causing future attacks of dry rot.
As inconvenient as it might sound: Our tip would be, when heavy rain sets in, to head outside and check your rainwater disposal system. You are specifically looking for leaks or overflows in the guttering, downpipes, hopperheads etc, anything that is causing rainwater to run down masonry or rendering etc.
Identifying any problems at this initial stage could save you thousands of pounds in potential repairs at a later date.
If you suspect that your property has an attack of dry rot, or have a waterproofing system that requires servicing and wish to arrange a visit from one of our expert surveyors or technicians, please contact us on 0800 055 6966.