Protectahome donate to Cwm Taf Health Board.
Protectahome and its staff have donated £200.00 to the Cwm Taf Health Board, and namely The Royal Glamorgan Head/Neck endowment fund, as part of our 35th Anniversary celebrations.
During an event to mark the occasion, Protectahome staff successfully raised the sum to support the fund that had very recently supported one of our own.
Last year, we received the terrible news that a Protectahome staff member had been diagnosed with throat cancer. Our colleague was referred to the Royal Glamorgan Head/Neck Department for treatment and we were delighted to hear later that the treatment had been a success!
With this in mind, all at Protectahome were delighted to have the opportunity to show our support for those who had supported our colleague so fantastically.
Did you know?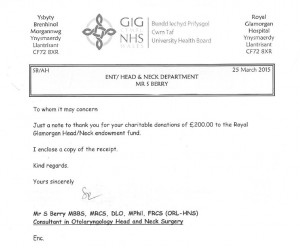 Around 900 people in the UK are diagnosed with Cancer – everyday!
Every 2 minutes someone in the UK is diagnosed with Cancer.
1 in 2 people born after 1960 will be diagnosed with Cancer at some point in their lifetime.
To show your support please visit: