Eight of the top 12 local authorities for callout rates for rats were in South Wales, according to the British Pest Control Associations 2013 National Survey.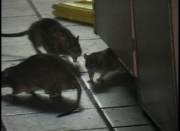 Out of 406 local authorities surveyed, Swansea came in ninth and Neath Port Talbot eleventh, although both councils have advised that the problem is under control.
Blaenau Gwent and Bridgend were at the top of the list, following immediately behind Birmingham, which has held the number one spot for two years.
Throughout Wales, the top five hotspots for pest callouts overall for 2012 were Rhondda Cynon Taff, Swansea, Flintshire, Cardiff and Bridgend.
Although a number of local authorities offer a free callout service, many counties started phasing out this service since 2010, due to increased budget cuts. This has sparked concerns due to the potential impact on public health.
Residents who aren't aware of a qualified pest control company often undertake the work themselves or hire unqualified controllers. This can lead to increased levels of infestations, and with 27,198 callouts to local authorities in Wales for rats alone; there is high risk of this happening.
It is important that a qualified pest control expert is employed to undertake any works quickly and efficiently, to avoid any infestations spreading and resulting in further costs to the residents.
Protectahome are fully qualified pest controllers and are trained to identify a wide range of pests, and safely and discreetly remove infestations. For more information visit www.protectahome-pestcontrol.co.uk.