With current fears that hygiene inspectors will come under extra pressure to deliver the 'Scores on the Doors' scheme, there are risks that businesses could lose trade as they wait to be re-rated.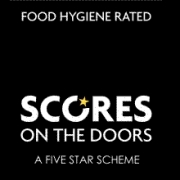 Provisions within the act state that re-inspections should take place within three months, but current waiting lists are as long as six. A result of this is that business owners are at risk of loss of trade due to the requirements to publish their scores on the door and online.
A significant scoring criterion is that you are able to provide evidence of satisfactory pest control.
Safer Food Scores' 'Food Hygiene Rating Handbook' suggests that to aim for a top score you should seek professional advice from a pest control company if you have pest problems.
Protectahome's Pest Control Department provide regular pest control services for a number of restaurants, pubs and food manufacturers; ensuring compliance with the scheme.
Prevent being scored below par due to a lack of pest control, and prepare your business in advance of your inspection.
For more information on Protectahome's Pest Control Services and how they can benefit your business, click here or call us directly on 0800 055 6966.