This historic building on the seafront in Aberystwyth was opened in 1896 by Princess Alexandra. The five storey stone built property, which had been empty for 10 years, has now been converted by a property developer.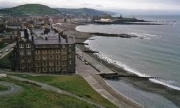 Severe winds and waves from the sea had caused delamination of the two skins of stonework. This damage had caused major structural problems to all elevations.
The projects Structural Engineers asked Protectahome as Cintec Approved Installer to devise a solution to the structural problem utilising Cintec Anchors.
Find out more information on Cintec Anchors or Structural Repairs.