Timber treatment work was completed at The Pantheon at Stourhead recently as part of an urgent repair project being undertaken by the National Trust.
This important structure, set in the grounds of Stourhead House, was designed by famous architect Henry Flitcroft and modelled on the Pantheon in Rome. Originally called the Temple of Hercules; building began in 1753 using Chilmark limestone with a brick and timber-supported dome.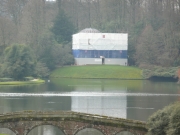 Following leaks in the roof, timbers in the portico developed an infestation of both the Common Furniture Beetle (woodworm) and Death Watch Beetle.
Protectahome, a national building repairs company, surveyed the property and identified the risks, devised a specification and developed a remedial treatment strategy which required intricate planning and detail due to the location of the building.
Having worked with numerous properties owned by the National Trust, Protectahome were contacted by the Conservation Specialists to undertake the work.
Situated on the edge of the lake in the world-famous Stourhead landscape garden, it was essential that any spraying treatment was undertaken with extreme caution to prevent any adverse effects to local wildlife.
Tight control on site was imperative as one of the active ingredients in the timber preservative used is highly toxic to aquatic life. This meant that Protectahome expressed extreme caution, doing everything within their power to prevent spray drift and spillages. This included covering all work upon completion to prevent any dilution from condensation falling from the temporary cover above.
A temporary roof was erected above the portico to protect it from adverse weather and provide added security to local wildlife during the replacement and repairs of timbers and roofing materials.
With the proactive, positive, 'can do' approach that Protectahome prides itself on, every eventuality was catered for and experienced operatives ensured that the site was prepared, all risks were assessed and the work was undertaken in a safe and efficient manner.
Gary Briscoe, Managing Director at Protectahome said: "Working on historical buildings is always an honour and the challenges faced are different with each property. Our dedication to the sympathetic preservation of such properties allows us the ability to assess and manage all scenarios diligently.
"It was a pleasure working on the Pantheon as it is such an iconic building. It also offered us the opportunity to work on a building close to the company's heart as 34 years ago, when Protectahome began, our logo was designed based on the Pantheon in Rome, and is something we still use to this day."
The restoration project is set to be completed in May, with the building reopening fully in June. The repairs undertaken will help keep the iconic Pantheon around for the next 200 years.