A recent survey shows that as many as 2.5million privately rented tenants are suffering from damp in their homes.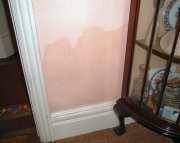 The survey, undertaken by Shelter and British Gas last month, highlighted the increasing numbers of tenants that suffer from damp, condensation and leaks because landlords are unable or unwilling to initiate repairs.
Housing charities have reported that one in four renters have asked for repairs that have been unfulfilled, and with as many as nine million people now believed to be renting privately in England, over two million people could be waiting for repairs that may never be completed.
As many as one in three privately rented homes have failed to meet the 'Decent Home Standard for England', as set by Government.
According to the Council of Mortgage Lenders, the buy-to-let market was worth £16.4billion last year, an increase of 19 per cent on the previous year. With these figures consistently growing it is of concern that only one in ten landlords are accredited or a member of a landlord body.
Damp proofing, condensation and structural repairs are vitally important and in order to prevent costly repairs from unattended complaints, property maintenance is a necessity.
Protectahome have trained, experienced surveyors who are able to assess buildings, ensuring an accurate diagnosis. We also offer a comprehensive range of treatments and techniques for resolving these issues, each targeted to deal in a sympathetic manner with the needs of the occupier and the building itself.
Ensure damp and general property maintenance is taken care of promptly and efficiently and book your survey today by calling Protectahome on 0800 055 6966.