Protectahome have recently completed the eradication of dry rot on a new Wetherspoons site in Pwllheli, Gwynedd, called the Pen Cob.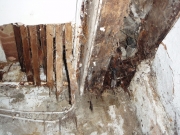 The building, on Station Road, is a four storey mid-terraced property that is approximately 80 years old. Originally a Bon Marche shop, the building has been empty for a number of years.
Wetherspoons plan to utilise the basement and ground floors as a pub restaurant, and are in the process of renovation. The upper floors are being considered for refurbishment into accommodation in the future.
Sections of ceilings to the rear of the property had collapsed due to the degree of moisture ingress that had occurred in the past. This revealed severe and virulent attacks of Dry Rot fungus (Serpula lacrymans). The spread and travel of dry rot into floor levels made it imperative that treatment works take place.
Dry rot is a fungus, which has the ability to spread though masonry and behind plaster. Its spread can be very rapid and destructive.
Protectahome's operatives were on site earlier this month to remove all plaster and timber in the affected levels. A full dry rot treatment was then carried out to the areas suffering from fungal decay. Timber lintels were replaced with concrete lintels where appropriate, and a repair plan was created for all flooring timbers in contact with the treated areas.
For more information on the Dry Rot and Wet Rot eradication services that Protectahome offer, click here.