BS8102:2009 'The British Standard code of practice for the protection of below ground structures against water from the ground' states that there are 3 types of waterproofing protection that can be selected:
Type A (Barrier) Protection
Protection against water ingress which is dependent on a separate barrier system applied to the structure.
Type A (Barrier) Protection, in some forms known as Tanking, provides protection against ground water ingress by applying a waterproof material to the external walls and floor slabs of a basement or underground structure forming a barrier between the structure and any groundwater present. The material can be applied to either the external or internal surface of the wall/floor and also in between wall or floor surfaces, (known as sandwiched waterproofing) depending on which material is chosen. Type A systems can also incorporate the application of a material on the external surface followed by another on the internal surface to offer a double layer of protection.
Type A materials include: Bonded Sheet Membranes, Liquid Applied Membranes, Geosynthetic Bentonite Clay Liners, Cementitious slurries and powders.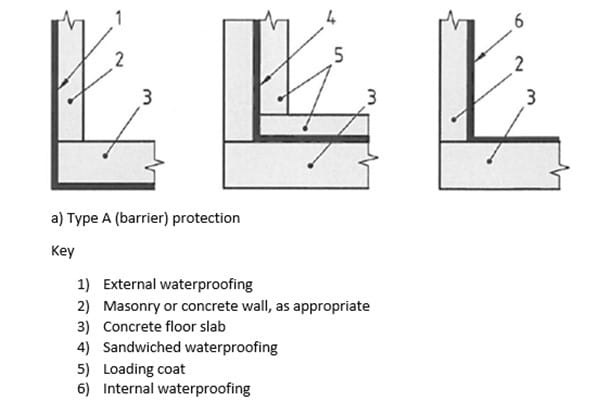 Type B (Structurally Integral) Protection
Protection against water ingress which is provided by the structure.
Type B Protection relies upon the design and materials incorporated into the external shell of the structure itself. Structures that provide Type B protection should be constructed of reinforced water-resistant concrete or structural steel.
Type B designs place added importance on the design of the structure and the specification of materials as well as the quality of the workmanship involved in preparing and placing concrete. This is due to the fact that the pattern of any seepage encountered is often associated with poor joints, cracks or other discontinuities such as service penetrations.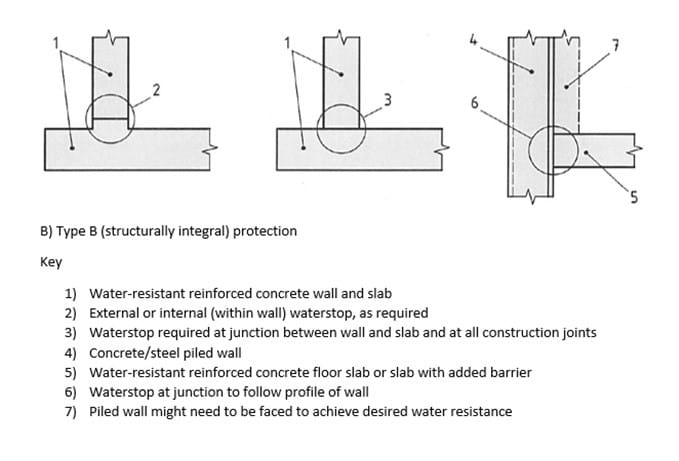 Type C (Drained) Protection
Protection against water ingress into usable spaces which is provided by the incorporation of an appropriate internal water management system.
Type C Protection offers a waterproofing solution by allowing groundwater to penetrate through the external wall or floor as far as the cavity between the external shell and internal lining/finishes, collecting it via a Cavity Drain Membrane and then diverting it into controlled drainage and a designated safe point of disposal.
Cavity Drain Membranes are studded on the external facing surface, allowing any water that penetrates the structure and reaches the membrane to flow into the designed drainage channels that carry the water to either a sump and pump chamber or away from the structure if passive drainage is possible.